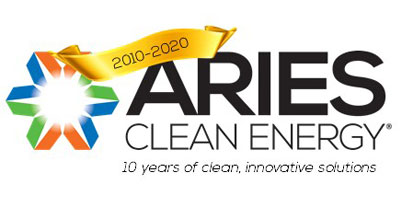 Source
Aries Clean Energy
Publication Date
April 13, 2020
Milestones, Recognition, and Growth
Imagine a future where renewable energy is not only feasible but also cost-competitive. With Aries Clean Energy, that future is now. We have paved the way with a wide range of sustainable technology for both municipal and commercial applications now at work in the United States. We are passionate about creating the green standard for renewable and sustainable infrastructure solutions.
If those words sound familiar, they can be found on our website, and they have guided this company during its first 10 years. We are pleased to recognize our 10th year anniversary as a clean, renewable energy company with a look back at humble beginnings, energy milestones, peer recognition, and the bright horizon of future growth. To those who know and support us, we thank you.
Aries Clean Energy started April 13, 2010 as PHG Energy, funded by the owners of a multi-state Caterpillar dealership, Thompson Machinery in Nashville, TN. The company was to further develop a patented gasification technology already in full commercialization and proven as a viable method of cleanly converting wood waste to synthetic fuel gas for industrial use.
Thompson Machinery customers were interested in alternate fuel sources for diesel reciprocating engines. A team at Thompson introduced the concept of producer gas to Caterpillar Corporate and was granted funding associated with the Caterpillar Research and Development group working on Advanced Reciprocating Engine Designs. That funding allowed us to tie together the Gleason installed gasifiers at Boral Brick with conceptual producer gas cleaning design development and Cat engines. Achieving limited but meaningful results, we continued to move forward. In 2011, we officially acquired the ownership of the downdraft gasified technologies and our first of eight patents. And, as of this writing, we are working on our ninth patent.
Those early years were full of patent applications, company formation, staffing, and mounting a global presence campaign.
"We've come so far in our first decade, and it's because of the vision of its founders and the expertise of this staff," said Greg Bafalis, CEO of Aries Clean Energy. "Since I've been on board, Aries has made history developing and/or commissioning some of the world's largest commercial downdraft and fluidized bed gasification plants. Each plant makes this planet a bit healthier as we provide environmentally friendly solutions to waste."
By 2013, the company had achieved several additional milestones using downdraft gasification, including:
Power Generation: Developing a system in conjunction with General Electric to power GE's Organic Rankine Cycle (ORC) generation equipment for the first time ever with biomass-produced fuel gas
Municipal Plant: Designing and installing its first municipal gasification facility to cleanly convert wood and biological waste to electricity
Cleaner Syngas: Successfully cleaning syngas in an R&D project, powering a 1 MW Caterpillar generator and selling that power back to the grid through TVA
Feedstock Research: Testing and collecting gasification performance data on a wide array of biomass-based materials including municipal solid waste, scrap tires, and purpose-grown crops
Larger System Deployment
In 2014, Aries constructed, and field tested the world's largest downdraft gasifier, giving the company's offering economies of scale to better assure positive financial returns for customers. With five times the processing throughput and fuel output capacity of earlier equipment, the new unit was a major breakthrough for both technology and market penetration.
The initial deployment of that system is now operating in the Lebanon, Tennessee, and converts a blend of commercial wood waste into electric power. Click here to view a case study and ongoing results of that project.
Market Integration
In 2015, the acquisition of assets and patents from MaxWest Environmental, a fluidized bed gasification company, opened new waste disposal markets, including municipal and industrial sludge disposal. Click here to view a case study of the Sanford fluidized bed plant and here to read about the new fluidized bed gasifier under construction in Linden, New Jersey. With this new technology, the company rebranded to Aries Clean Energy, a name that better embraces all the solutions available.
Investment Partner Spring Lane Capital
In January 2018, Aries announced that it has issued approximately $21.4 million of new equity led by existing investors and received additional capital commitments from Spring Lane Capital of $25 million for equity in future gasification projects. Spring Lane, a private equity firm based in Boston, focuses on project finance investments for smaller-scale solutions in the energy, water, food and waste industries. This financing marks a significant milestone for the emerging set of municipal- and industrial-scale solutions providers in the waste management industry, which has been historically challenged to access affordable financing tailored to the needs of sub-utility scale projects in the industry.
Awards and Recognition
September 24, 2012 – PHG Energy was named a 2012 "Green Hero" by the Nashville Post. The annual list is a compilation of companies and individuals that provide goods or services intended to improve the sustainability of others and/or that employ sustainable principles in their facilities and practices.
While this was the publication's third annual list, 2012 marked the first time the Heroes were divided into four categories: Adopters, Evangelists, Intermediaries and Makers. PHG Energy was included in the "Makers" group, which recognized manufacturers of the products that get used in sustainability efforts or companies that are emphasizing more sustainable production methods.
May 24, 2017 – Aries Clean Energy's biomass gasification plant just outside Nashville was recognized as the driving force behind the City of Lebanon's receipt of a 2017 Governor's Environmental Stewardship Award, the most prestigious conservation award in the state of Tennessee.
The awards annually showcase exceptional voluntary actions that improve or protect the environment.  Governor Bill Haslam and Tennessee Department of Environment and Conservation Commissioner Bill Martineau jointly announced the award in the energy and renewable resources category after a panel of 22 independent professionals representing conservation, environmental, agricultural and academic professionals judged nearly 90 entries from across the state.
Aries Clean Energy deployed its patented gasification technology in design and construction of the plant that was commissioned in late 2016.  It is the world's largest downdraft gasification facility, and it utilizes a blend of wood waste from local industries to produce green electrical power.
June 7, 2017 – Aries Clean Energy's gasification plant operating near Nashville again received recognition as a sustainability success. This award is national in scope and was presented from a leading environmental publication naming the facility a 2017 Top Project energy category winner.
The Environmental Leader Product & Project Awards recognize excellence in products and services that provide companies with energy and environmental benefits, or in corporate projects that improved environmental, sustainability or energy management and increased the bottom line. It is a five-point rating system designed to offer companies feedback and recognition. Third-party judges came from national and international companies including AT&T, Kellogg, LNS Research, Marriott, Panasonic, Safeway, Sears Holdings Corporation, Sierra Nevada Brewing Company, and Tyco Global Products.
Judges considered the clean-tech, renewable energy plant located in Lebanon, TN, an exemplary project. "This is such a great example of sustainability and could be a wonderful model for the rest of the world," one judge said of the public/private gasification project. "They are using systems thinking to reduce waste, produce renewable energy, capture heat that normally would be wasted, and are also producing biochar which has great agricultural benefits."
Another judge added, "A great example of how to increase government's productivity while also reducing their environmental impact."
October 3, 2017 – Aries Clean Energy downdraft gasification plant in Lebanon, Tennessee, was again the catalyst in two outstanding award programs.
The Greater Nashville Regional Council (GNRC) presented the 2017 Local Government Award for Public Works & Utility Infrastructure to the City of Lebanon on Sept. 27. The GNRC recognized Lebanon for Solid Waste Management and Environmental Stewardship through the city's gasification initiative, its use of public/private partnerships, and the city's other energy-saving and recycling programs.
The Local Government Award honors local governments and public/private partnerships in the greater Nashville region which have exhibited outstanding accomplishment and achievement or innovation in several areas of public works and utility infrastructure.
Industrial Water & Wastes Digest (iWWD) also included the Lebanon renewable energy plant in its list of top projects for 2017. The award was announced at the Water Environment Federation technical conference (WEFTEC) in Chicago.
Public Works Project of the Year
November 14, 2017 – The Lebanon Gasification Initiative received the 2017 project of the year honors from the Tennessee Chapter of the American Public Works Association (TCAPWA).
This award recognizes a project in a Tennessee city that epitomizes outstanding planning, construction, and management. This project becomes the Tennessee Chapter's nomination to the National APWA Top Ten Projects of the Year. At the heart of the Lebanon initiative is the world's largest downdraft gasification plant designed and built by Aries Clean Energy.
Accepting the award on behalf of the city are Lebanon Mayor Bernie Ash (right) and Randy Laine, city engineering director.
About APWA:
The American Public Works Association (APWA) is a not-for-profit, professional association of public works agencies, private companies, and individuals dedicated to promoting professional excellence and public awareness through education, advocacy and the exchange of knowledge. APWA is headquartered in Kansas City, Missouri, and has an office in Washington, D.C. Chartered in 1937, APWA is the largest organization of its kind in the world, supporting 63 chapters throughout North America for a total of 29,000 members.
2019 Communication Awards
Two recent company communications received IABC Music City Gold Pen Awards from the Nashville, TN, chapter of the International Association of Business Communicators in 2019. This group meets monthly to share best practices and trends in corporate communications. The awards program looks at the quality of the writing itself and how the goals were met for each project. This is judged by IABC chapters from other cities or states that look closely at metrics generated from media, trade, web, and social media exposure – truly judged by one's peers.
One of the winning entries, Biochar Opportunities Knock, was co-written with Dr. Forbes Walker and Aries staffer Nancy Cooper. Cooper has been following Dr. Walker's research with biochar produced by the Lebanon gasification plant for the past two years. He and his graduate students at the University of Tennessee Knoxville are conducting much of their research in the field, not in a laboratory. The information was timely and unique in the biochar research world and presented an opportunity for Aries to lead in a European publication, Bioenergy Insight. This received an Award of Merit.
The press release that announced the Aries GREEN® Biochar's dual certification was also recognized with a Gold Pen Award. This release combined Aries with a nationwide and a worldwide entity. This received an Award of Excellence.
2020 – New Jersey Clean Energy Leadership Awards
Aries Clean Energy is currently nominated for a New Jersey Clean Energy Leadership Award for its work on the Aries Linden Biosolids Gasification Facility. Read more about this project here.
First Commercial and Retail Product
In July of 2019, Aries launched the retail sales for its Aries GREEN® biochar product. It has been certified by both the U.S. Department of Agriculture (USDA) Certified Biobased Product label and the International Biochar Institute (IBI). The product carries the USDA label and the IBI Certified™ biochar seal.
Two sizes are currently being offered to the public via the company's website:
https://ariescleanenergy.com/biochar/biochar-sales/ and on the Amazon marketplace.
The next 10 years
As far as the future goes, we hope you will follow this company and watch us grow. You can become a monthly newsletter subscriber or follow us on Twitter or Linked In if you want some daily renewable energy updates. Visit our website any time to discover more about Aries.
We have new projects well underway on our drawing boards. Here are a few details.
Linden, New Jersey
It is no secret that Linden wants to be the greenest city in the Garden State of New Jersey. The addition of the Aries Linden Biosolids Gasification Facility is a big step in that direction.
This gasification plant is currently under construction on the grounds of the Linden Roselle Sewerage Authority (LRSA). At full capacity it will process 430 tons of biosolids daily diverting from local landfills and reducing greenhouse gases associated with conventional disposal methods. The 22 tons of biochar produced daily will be utilized by the concrete industry, also diverting this from landfills. The plant's closed-loop system requires no fossil fuels during operations. Full operation is expected in Q4 2020.
"This marks the beginning of a collaboration that will set new standards of clean and green efforts in the wastewater industry," said David Brown, past executive director of LRSA. "I want to ensure everyone that we are confident that this collaboration between the City, Authority, and Aries will meet expectations for a long term, be more cost effective, and a beneficial reuse solution for sludge treatment and disposal. The opening of this gasification plant here will provide additional revenue, reductions in operation and maintenance costs, and give our ratepayers an economic benefit that will allow the Authority and the City to stabilize our budgets."
"I welcome the technology that exists today that we can take biosolids and convert them into a clean and renewable energy source. I welcome the new relationship between private companies like Aries Clean Energy and the Linden Roselle Sewerage Authority," said Mayor Derek Armstead, mayor of Linden, NJ. "What a great day it is to make history for Linden and for New Jersey as we are taking a step together toward a healthier New Jersey, a healthier Earth."
Lost Hills, California
The Central Valley in California is a flat valley that dominates the interior of the state. It is the state's single most productive agricultural region and one of the most productive in the world, providing more than half of the fruits, vegetables, and nuts grown in the United States. The Central Valley's fertile soil and extended growing season make it one of the major agricultural regions in the United States.
Along with the crops, however comes agricultural waste, such as seed hulls, broken limbs, and vines that need environmentally friendly disposal.
Aries is recommending the installation of downdraft gasifiers to convert the ag waste into energy and restorative, carbon-rich biochar. Three downdraft units can process 165 tons of agricultural biomass that would generate 86 MW of electricity daily; 72 MW to the grid. The system would produce 5000 TPY of biochar that will be used as a soil amendment that improves soil quality. It can also be used as an additive in commercial manufacturing. Full operations are projected for Q3 2021.
Gasification is an approved method of using agricultural waste to generate electricity. This project will help meet California's Renewable Energy goals. The project qualifies under the state's SB 1122 CAT 2 BioMAT program.
Thank you for your support, and please stay tuned and follow us for more!