Publication Date
July-August 2021
An Aries GREEN® biochar donation supports the Southern Alliance for Clean Energy's carbon reduction research.
Aries

GREEN

® biochar donation delivered by Tesla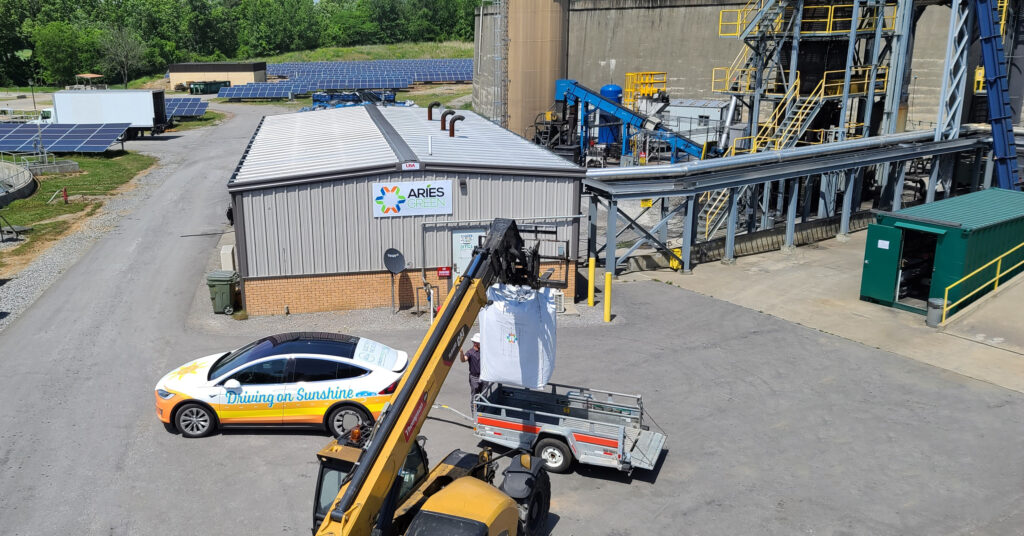 By Amy Rawe
An all-electric Tesla Model X pulled a flatbed trailer from Lebanon to Knoxville this spring, delivering 1,600 pounds of a carbon-rich biochar product to be tested with various soil blends in East Tennessee experimental garden plots.
The Southern Alliance for Clean Energy (SACE) had teamed up with Aries Clean Technologies to develop Carbon Catcher, a nutrient-rich soil blend that contributes to a net withdrawal of carbon dioxide from the atmosphere. Aries GREEN® Biochar provides a significant opportunity for carbon sequestration, benefiting the environment as well as soil and plant health.
Recognizing that SACE's mission focuses on reducing carbon emissions through clean energy sources, Aries has donated two supersacks (approx. 1,600 pounds) for SACE's research and development purposes, delivered to Knoxville via the Tesla in recognition of SACE's "Driving on Sunshine" electric vehicle campaign.
Biochar is a carbon-rich product that is left over when organic materials such as woodchips or plant matter – are converted via gasification. The process cleanly captures carbon rather than releasing it into the atmosphere, where it would otherwise contribute to greenhouse gases that are accelerating climate change. Biochar can be used as an energy product or as soil amendment, and the Intergovernmental Panel on Climate Change has identified biochar as one of only a few negative-emissions technologies.
The Tesla driver, Dr. Stephen A. Smith, SACE's Executive Director and a member of the City of Knoxville's Carbon Task Force, said his group looked forward "to researching the best use of this carbon-capturing, nutrient-rich resources in soil blends for potential use in garden plots throughout the city. We appreciate that Aries GREEN® is regionally sourced and produced at the Aries' gasification plant in Lebanon, Tennessee, and utilizes wood waste from crates that would otherwise fill local landfills."
He said SACE intends to incorporate the Aries GREEN™ Biochar as the foundational ingredient to be mixed with various other organic materials, including rock dust, worm castings, and regionally produced agricultural or food industry by-products. Resulting soil blends may ultimately be used in garden test plots and monitored by a research team of experienced farmers to determine optimum efficacy.
Since 2016, Aries Clean Technologies has operated a plant in Lebanon, Tennessee, utilizing wood waste to generate electricity for a nearby wastewater treatment facility. The plant can annually produce 1,800 tons of consistently high-carbon biochar that has received certifications from both the USDA and the International Biochar Initiative.
Amy Rawe is the communications manager for the Southern Alliance for Clean Energy. A graduate of Wake Forest University, Amy's passion for promoting clean energy solutions and environmental advocacy is most deeply rooted in her desire to create a healthier, more sustainable climate for her young daughter's generation, and those to come.